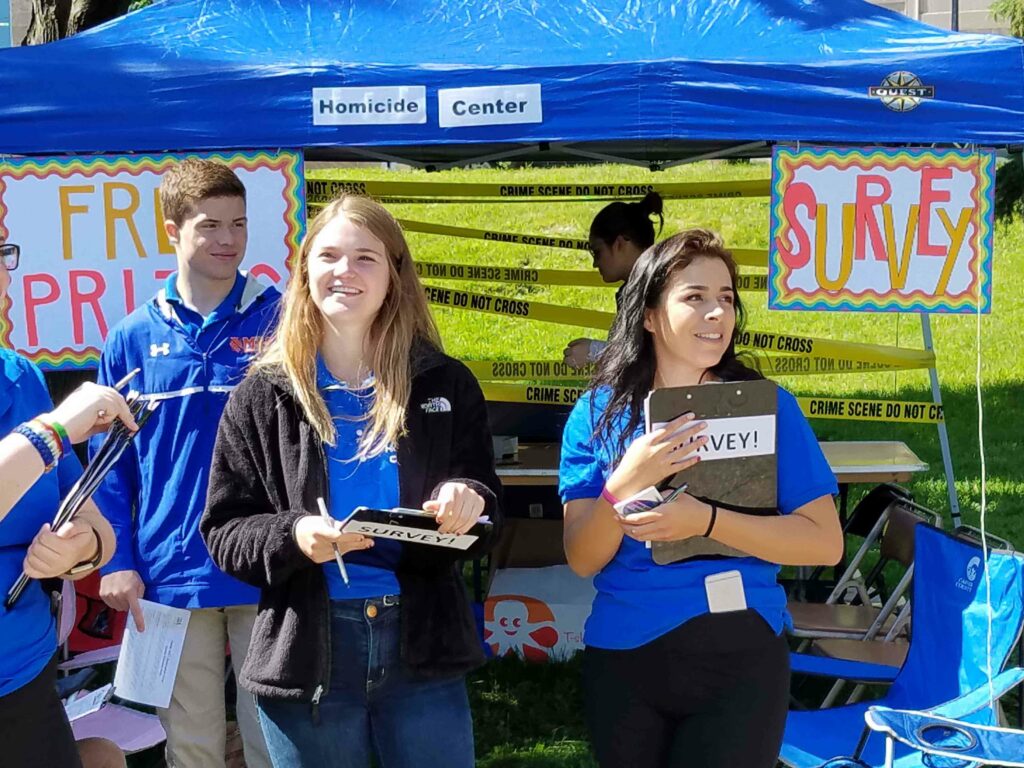 Researchers attending the Summer Research Institute attended the 2017 Twin Cities Pride Festival June 24-25 to proctor a novel conceal & carry survey aimed at eliciting the observations of lesbian, gay, bisexual and transgender people about their stance on firearms for self-defense.
A previous survey found that only 15% of LGBT people owned or possessed a firearm, compared to 30% of heterosexual people. The original survey on firearms was undertaken in 2006, with a limited question in the 2016 survey only about a week after the Pulse Nightclub Shooting in Orlando, Florida that took the lives of 49 club patrons. This year's survey is much more in-depth, and asked specifically about concealed carry practices.
Some respondents had questions as one might expect about the purpose of such a survey. The Center has a a long and proud history of conducting scientific research–independent in nature–to establish "what is," rather than focusing on what public policy "should be." It is with this knowledge that people and organizations can make informed decisions within a policy arena.
Due to excellent weather conditions and a sound company of staff, the survey results have been extraordinary this year, completing over 1,100 surveys. It obviously helped that the survey instrument (form) was only two pages in length. In the days since the festival, researchers have been coding the survey responses into a database for analysis.
There are a few key differences between the possession and/or ownership of a firearm and using concealed carry practices. The mere possession or ownership of a firearm does not allow one to publicly carry their firearm with them as a conceal and carry permit would. A carry permit allows one to go beyond home or work with his or her firearm.  One who possesses or owns a firearm cannot necessarily do this. They can only use it in limited spaces and cannot have it on their person at all times.  In the state of Minnesota, where the survey was being undertaken, a firearm owner is not required to conceal while they carry. Thus, they have a carry permit rather than a concealed carry permit.
The specific act of concealing and carrying was studied in order to understand strategies of self-protection among the LGBT+ community. High profile incidents of violence against the LGBT+ people, such as the Pulse Nightclub shooting, may be impacting the community's opinions on or status' as firearm owners. Historically, the LGBT+ community has been associated with pacifism; studying their opinions on gun ownership can help validate whether this focus on pacifism exists at all or has shifted in light of violent incidents.
Results of the 2017 survey are complete and can be read here.
The Center for Homicide Research offers one of the finest internship programs in the United States. Distanced-based electronic internships begin in Fall of 2020. Qualifying students come from undergraduate, graduate and law schools.