CHR researchers returned recently from attending the meetings of the American Society of Criminology (ASC). Criminologists met together in New Orleans, Louisiana to present and discuss ground-breaking developments in the understanding and prevention of crime, including homicide. The conference was held November 15-19, 2016. New Orleans is often a chosen conference site to help support the post-Hurricane Katrina (2005) recovery of that city.
Research Manager, Jeff Mathwig, and Principal Researcher, Dallas Drake, also attended a pre-conference seminar on November 14th titled, How to Effectively Share Your Findings and Expertise with National Media Outlets, sponsored by the Crime and Justice Research Alliance. They learned valuable lessons about how to spread their message of homicide prevention and improvement of case resolution. Mathwig, who hopes to begin addressing the media in the near future, learned techniques for addressing news outlets through exercises and presentation.
"News organizations have a unique responsibility," said Mathwig. "If done properly, news stories can help inform the public on ways to prevent homicide. Even if homicide is not an issue that directly effects them."
Mathwig, a geography major in college, attended many sessions on crime mapping and crime and place. These were sessions focused on various crimes and their association with location.
"It was an incredibly valuable experience talking to other homicide researchers about the segregation of crime," said Mathwig. "Homicide, in particular, is a crime that occurs all too often in specific areas of a community, a pattern that is repeated year after year."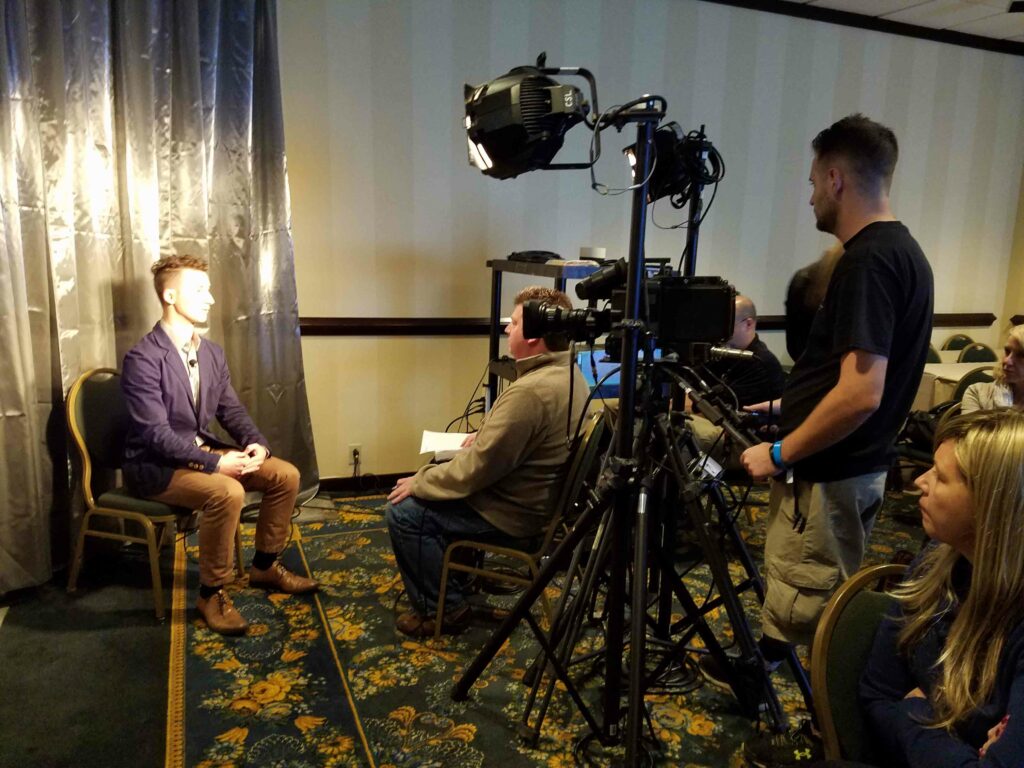 Jeff Mathwig (left) participated in a mock television interview.
According to Drake, "one of our goals at this conference was to provide Jeff an opportunity to meet and network with veteran researchers." Mathwig met several senior researchers, including James Alan Fox of Northeastern University. Fox frequently appears on CNN Television, helping viewers to understand the dynamics of mass shootings. Mathwig also was introduced to many members of the Homicide Research Working Group, an international assembly of researchers who specialize in studying lethal violence.
Approximately 4,500 attendees shared their work at the ASC conference, mostly in smaller breakout sessions. In addition to these, Dallas Drake also attended committee meetings and assisted in staffing a table for the Homicide Research Working Group.
The Center for Homicide Research offers one of the finest internship programs in the United States. Distanced-based electronic internships begin in Fall of 2020. Qualifying students come from undergraduate, graduate and law schools.