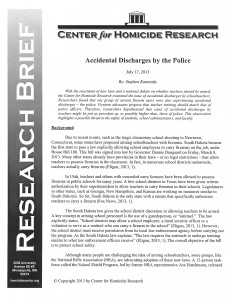 With the enactment of new laws and a national debate on whether teachers should be armed, the Center for Homicide Research examined the issue of accidental discharges by schoolteachers. Researchers found that one group of current firearm users were also experiencing accidental discharges – the police. Firearm advocates propose that teacher training should match that of police officers. Therefore, researchers hypothesized that cases of accidental discharges by teachers might be just as prevalent as, or possibly higher than, those of police. This observation highlights a possible threat to the safety of students, school administrators, and faculty.
To access the brief, click here.
The Center for Homicide Research offers one of the finest internship programs in the United States. Distanced-based electronic internships begin in Fall of 2020. Qualifying students come from undergraduate, graduate and law schools.