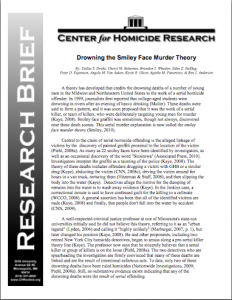 A theory has developed that credits the drowning deaths of a number of young men in the Midwest and Northeastern United States to the work of a serial homicide offender. In 1999, journalists first reported that college-aged students were drowning in rivers after an evening of heavy drinking (Maller). These deaths were said to form a pattern, and it was soon proposed that it was the work of a serial killer, or team of killers, who were deliberately targeting young men for murder (Kaye, 2008). Smiley face graffiti was sometimes, though not always, discovered near these death scenes. This serial murder explanation is now called the smiley face murder theory (Smiley, 2010).
Access the reports by clicking here:
Drowning the Smiley Face Murder Research Brief
Drowning the Smiley Face Murder Theory
The Center for Homicide Research offers one of the finest internship programs in the United States. Distanced-based electronic internships begin in Fall of 2020. Qualifying students come from undergraduate, graduate and law schools.