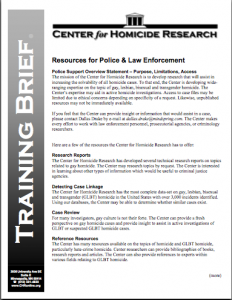 The mission of the Center for Homicide Research is to develop research that will assist in increasing the solvability of all homicide cases. To that end, the Center is developing wide-ranging expertise on the topic of gay, lesbian, bisexual, and transgender homicide. The Center's expertise may aid in active homicide investigation.
To access the brief, click here.
The Center for Homicide Research offers one of the finest internship programs in the United States. Distanced-based electronic internships begin in Fall of 2020. Qualifying students come from undergraduate, graduate and law schools.