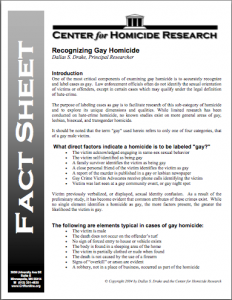 One of the most critical components of examining gay homicide is to accurately recognize and label cases as gay.  Law enforcement officials often do not identify the sexual orientation of victims or offenders, except in certain cases which may qualify under the legal definition of hate-crime.
The purpose of labeling cases as gay is to facilitate research of this sub-category of homicide and to explore its unique dimensions and qualities. While limited research has been conducted on hate-crime homicide, no known studies exist on more general areas of gay, lesbian, bisexual, and transgender homicide.
It should be noted that the term "gay" used herein refers to only one of four categories, that of a gay male victim.
To access this brief, click here.
The Center for Homicide Research offers one of the finest internship programs in the United States. Distanced-based electronic internships begin in Fall of 2020. Qualifying students come from undergraduate, graduate and law schools.