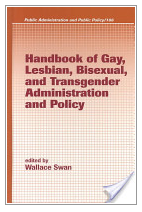 © 2004 Marcel Dekker
A new book from publisher Marcel Dekker (now Taylor & Francis)  includes significant contributions by Center for Homicide Research's principal researcher Dallas Drake about criminal justice and homicide in the GLBT community. The book, Handbook of Gay, Lesbian, Bisexual, and Trans-gender Administration and Policy, edited by Wallace Swan, was published in January 2004.
Drake and other contributing authors worked with Swan for more than two years to develop this comprehensive resource. Contributors include leading policy makers and researchers from across the United States. The book addresses issues of criminal justice and homicide in the GLBT community (by Drake/Swan and Drake respectively), human rights laws, transgender rights, health, and issues of youth and aging in the GLBT community.
The title of the homicide chapter is "Confronting and Managing GLBT Homicide and its Associated Phenomena." Drake's two chapters in Handbook represent significant areas of research at the Center: homicide in the GLBT community and criminal justice issues. Both chapters provide a solid foundation for understanding of these unique issues for readers and policy makers.
According to World-Cat, this book is available in at least 424 libraries across the US.
The 360-page Handbook of Gay, Lesbian, Bisexual, and Transgender Administration and Policy is available online at: click here.
Or, just Drake's chapter: click here.
More information:
click here for Google Books
The Center for Homicide Research offers one of the finest internship programs in the United States. Distanced-based electronic internships begin in Fall of 2020. Qualifying students come from undergraduate, graduate and law schools.